We have received the sad news that Professor Evert Gummesson, Stockholm University, has passed away. He was 87 and left behind his wife and two daughters. Many of us know him as one of the founding fathers of the Nordic school of Service, who together with Professor Christian Grönroos were among the pioneers of what we today call service research. Evert and Christian met in the 1970s and found joint interest in service marketing and management, discussing and sharing ideas, attending conferences together, and co-authoring joint articles.
Evert was a true pioneer of the service research field. He argued that service marketing is much broader than conventional marketing, and therefore, started to talk about service management. He also broadened service marketing towards relationship marketing and many-to-many marketing. He authored multiple publications such as the books Qualitative methods in management research and Relationsmarknadsföring i tjänsteföretag: från 4 P till 30 R. In 2004, together with the late Professor Christopher Lovelock, Evert wrote the thought-provoking article Whither services marketing? In search of a new paradigm and fresh perspectives (published in Journal of Service Research) that triggered a lot of discussion in the field.
A true pioneer – a legend – has left us
Evert was a close friend of Hanken and CERS and frequently spent time here, often as opponent on our doctoral defenses. He received the title of Honorary Doctor at the doctoral conferment of Hanken School of Economics in 2004. Among many other recognitions, Evert was the first recipient of the distinguished Grönroos Award, which is an award presented to scholars in recognition of excellent achievements in service research challenging common understanding and demonstrating significant originality. It was a true honor to present him the award in May 2011.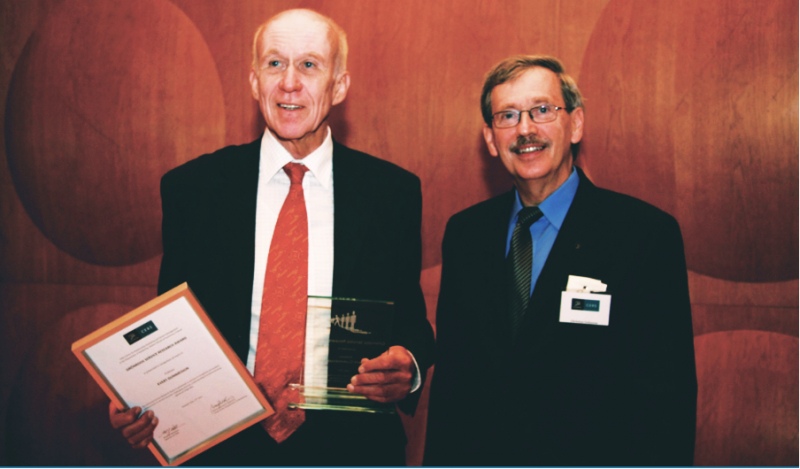 Evert Gummesson and Christian Grönroos in May 2011 at Hanken School of Economics, Helsinki, Finland.
Evert was indeed a frontrunner and an inspiration to many of us. He made an impact with his relentless exploration of what makes the world tick. He continued to be involved almost to the end. A true pioneer – a legend – has left us. We cherish Evert's commitment to the academic community and we are grateful for the longtime friendship. Our thoughts are with Evert's family, and we wish you comfort and peace during these difficult times.
— Professor Emeritus Christian Grönroos and Professor Kristina Heinonen