Working in academia is quite unlike anything I've done before. In between all the deadlines and usual work pressures, researchers – even doctoral students – enjoy an impressive amount of freedom. By freedom I mean the absence of the old 'nine-to-five' mentality, of being tethered to the office, the cubicle. When the need to produce new knowledge and insights is the driving force, the mode of work becomes different. Collaboration and the exchange of ideas become paramount. This is one of the reasons why conferences are so important for researchers. But the exchange and free flow of ideas, research papers – and people – often manifests itself in other ways as well. In my case, all this led to a one-year research visit to the Center for Service Innovation at NHH Norwegian School of Economics in Bergen.
Located on the same latitude as Helsinki, and surrounded by stunning mountains to the East and the formidable North Sea to the West, Bergen is perhaps best known for having a lot of rain. One could also add that it's the second largest city in Norway, it's an international centre for shipping and offshore petroleum industry, and it's the home of the oldest business school in Norway, NHH. If that wasn't enough, it's also a musical hotspot, being the origin of artists such as Röyksopp, Kings of Convenience, and Sondre Lerche. Oh, and Edvard Grieg as well.
At CERS, doctoral students are warmly encouraged to go on research visits to other universities and business schools. This quickly became evident to me last winter when I brought up the idea of moving to Bergen. The Center for Service Innovation at NHH seemed like a great place to visit, as it is one of the nationally funded centres for research-based innovation in Norway. As I'm doing research in the field of services, it's also well suited for my area. My supervisor gave me a big helping hand with contacting faculty at NHH and with arranging an invitation.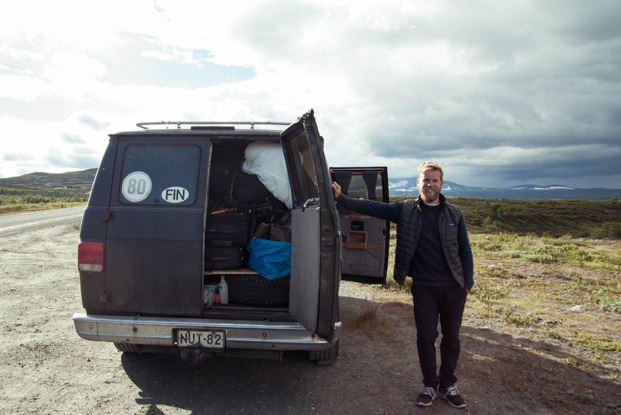 A happy camper in the Dovre mountain range
The next step for me was to start planning the move together with my girlfriend. As our plan was to live in Norway for a whole year, bringing only luggage by airplane didn't feel suitable. Instead, we ended up scraping up enough of our savings to buy an almost 30-year-old van, and extending the move into a three-week road trip through Finland and Norway, via the North Cape. When July came, we put a mattress in the car, filled the rest of the space with as much of our belongings as we could fit, and left Helsinki.
While I'm on the topic, it's worth mentioning that driving through Norway is really an experience filled with superlatives. Here are a few picks from our trip: the northernmost point in Europe (Nordkapp), the world's strongest tidal current (Saltstraumen), the highest mountain pass road in Northern Europe (Sognefjellsvegen), and the world's longest road tunnel (Lærdalstunnelen, 24 kilometers!). And to top it all off, there are countless fjords, mountains, ferries and bridges, not to forget all the reindeer, sheep, and even cows that occasionally blocked the roads. To tell you the truth, we were more than happy and relieved to have arrived in Bergen without the car breaking down on us on some mountaintop.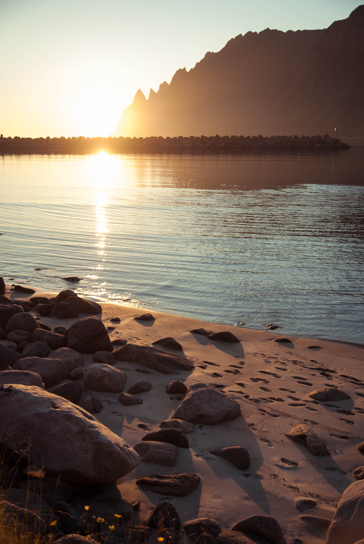 The Devil's tongue on the island of Senja, above the Arctic Circle
Seeing this now from the perspective of a driver, the Norwegian Public Roads Administration, responsible for maintaining national roads in Norway, has done a great job in offering experiences for those travelling through the country by car. They maintain a number of national tourist routes, two of which we drove through. These are not your everyday highways, but slow and winding scenic routes. The routes have their own webpages filled with information on sights, infrastructure, and suggested activities along the way. They have really succeeded in taking something as simple as a paved road, and turning it into a service that provides excellent experiences. As the roads are publicly funded the whole service is very egalitarian. Rich or poor, you can drive your old van or new Porsche on the routes, or you can choose to go by bike, if you're up for it. At the same time they act as a great investment for attracting tourists, providing a solid base for a thriving tourism industry. You can simply drive through the scenery, stopping for occasional hikes or fishing, or you can spend days and dollars on guided tours, renting a kayak, and visiting museums. Of course, none of this would be possible without the magnificent landscapes enveloping the routes. In any case it's a great example of modern public administration that serves the interests of both citizens and tourism entrepreneurs.
Hannu Tikkanen