Amazing week in California with ABC
Hi again,
 you might remember my last blog entry in which I wrote about my experience in the Academic Business Consulting course (Next year it'll be called only Business Consulting). But same as all good things, also this course is coming to an end. This means it was time for our group to visit our previously chosen destination San Francisco for a joint trip as reward for the hard consulting work we have done in 7 projects overall.
We are currently sitting at the Oakland International Airport as I write this, waiting for our flights back to Finland. We have experienced so much during the past week that it becomes a task of its' own to comprehend all of it into one blog entry but I'll give it a try.
The trip began with an amazing weekend spent in California's famous Muir Woods and a 19 km hike. The following day we (the ones who were still able to walk) visited Santa Cruz and hoped for some waves to learn how to surf, which was cancelled due to a lack of waves. However, a wonderful weekend was a great start to prepare us for the upcoming company visits.
We got to talk to several very inspiring individuals from venture capital investment firms such as 50 years and Index, as well as from serial entrepreneurs like Ugur Kaner and Canopy's open workspace community director Red Rainey.  San Francisco is all about who you know and what you make out of your contacts, at least when it comes to business. The motivation of people has all kinds of different backgrounds, which makes this fast paced environment an open playground for tech enthusiasts, communication lovers and also profit hungry capitalists. I personally found the difference in culture compared to Finland to be very extreme. In Finland people are more rational, seeking low-risk investments and business models, whereas the people in San Francisco live by selling dreams and ideas to raise capital for start-ups. The difference was not necessarily bad, just shocking to someone who has never experienced it.
As one week is quite some time to visit places, we managed to get into some of Silicon Valley's biggest players in the tech industry – LinkedIn, Facebook and Google. All of those visits were made possible through our own networks and were at least in my opinion some of the most interesting stops we had on our route. Seeing how the big corporate tech life works and how people from all cultural backgrounds work together in super modern campuses was simply intriguing. From crazy offices, over the top employee benefits to the motivational work environment – Silicon Valley has it all. Whether or not this work life fits for one depends heavily on personal and professional preferences of course, but I as a tech freak liked it – a lot! To round off our excursions, we also visited Stanford university and the University of California, Berkeley. These schools have campuses, we at Hanken can only dream of as Stanford for example looks more like a five start holiday resort.
Last but not least I'd like to share my two favourite spots of the week. Number one would be the former prison island Alcatraz, as I was always interested in the story of it plus it was my favourite level in the Tony Hawk video game when I was younger, which basically allowed  me to know the island inside out before we even got there. Adding to that (I know this is THE tourist thing to say) one of the greatest views in town, at least in my opinion, was next to the Golden Gate Bridge. The weather was clear enough to see the bridge, the bay and even as far as Alcatraz.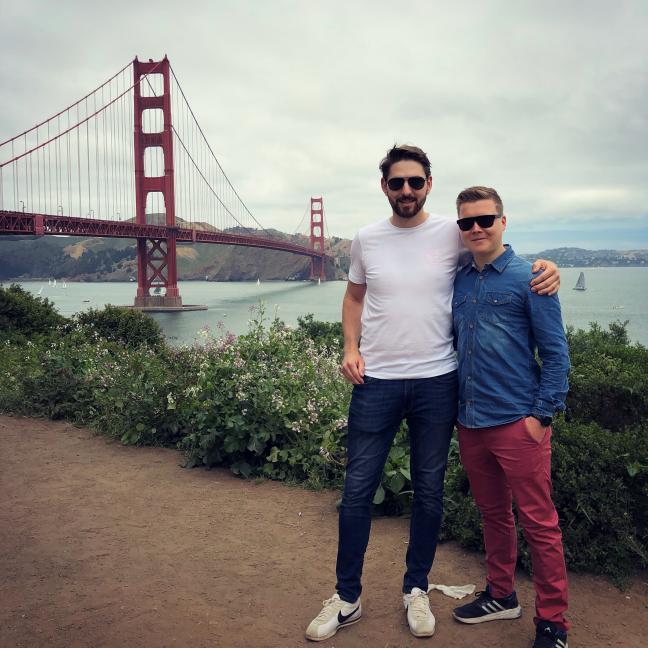 In conclusion I can only say that besides all the visits, views, amazing restaurants and interesting people, what I've enjoyed the most was to get closer to my ABC team. We've established a great group feeling over the course of the year already, which made this trip even more memorable. I've learned something new about all of my consultants, and am very happy to call all of them my friends. Afterall, without them it would have been just another trip.
Now it's time to board the plane and get back to warm and sunny Finland (This sounded as weird to me as it did to you , trust me but it's in fact almost 10° warmer in Helsinki :D)
P.S. I know describing all these great things without the matching pictures must be complete torture – but if you head over to @Hankenofficial on Instagram, you'll see some great shots of the week 🙂