Studying in Finland has many advantages. While some such as the quality of education and student life are commonly cited, the price (and quality) of student lunch is another exciting element.
Hi everyone,
Today, I am not going to write about events, networking, or courses at Hanken. I am going to write about food.
Studying in Finland has a lot of advantages. However, Helsinki remains an expensive city in comparison with the majority of other capitals. The good news is that as a student, you will have a lot of benefits -one of them being that you can have lunch for no more than 2.60€ (!!). The city centre is full of so-called Uni-Café where you can enjoy cheap food. Hanken has its own cafeteria, run by the famous Fazer Food company.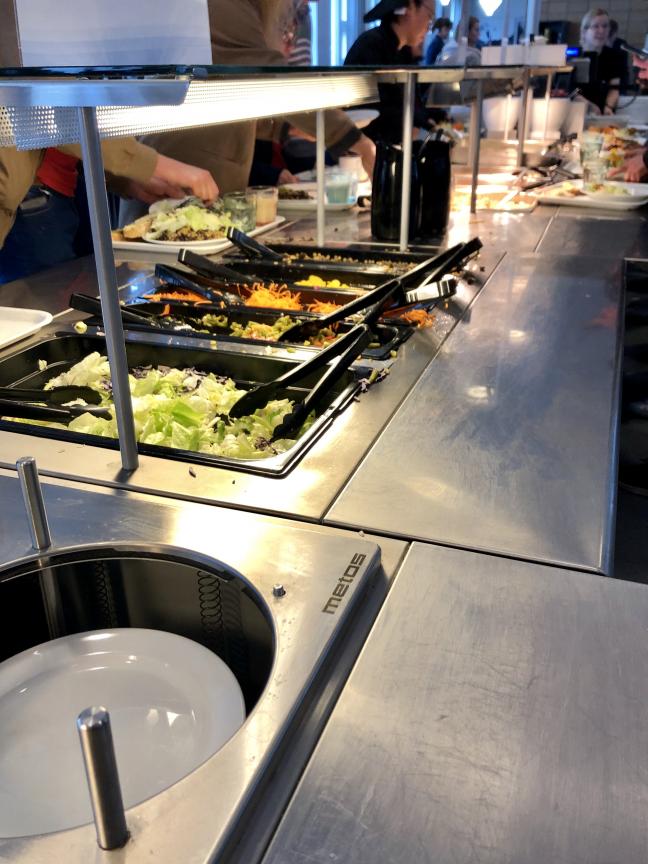 From Monday to Friday, between 11:00 and 15:00, you can choose between several lunch options. There is always a buffet of 4-5 different salads, a vegetarian meal, a non-vegetarian option, a soup, and an 'upgraded option'. In addition, there are also several kinds of bread (white bread, rye bread, gluten-free bread, etc.) and bread-spreads. In summary, for less than 3€, you can take a small plate of salads + a normal plate of 'warm-food' + bread + a drink (such as milk or juice). If you are still hungry, the cafeteria also sells a number of sweets and sandwiches. Finally, you do not need to be worried if you have special diets. You will (or may) always been able to find an option which suits your needs.
Having a healthy lunch is extremely important when spending the full day studying and learning as it provides good nutrients to your brain. As students, we have all experienced the traditional student pizza and spaghetti, because they are easy to cook and cheap. For this reason, it is very nice to have the opportunity to eat a balanced meal for a very cheap price at the cafeteria. Furthermore, sharing lunch with your friends is far better than eating alone, at home.
Finnish food is not known to be the tastier food. But no worries, Hanken cafeteria also has tasty dishes such as its famous "Pizza-Friday". So, keep the fast-food for the weekend and enjoy a more varied and healthy diet during the week, for no more than 2.60€.
Enjoy your meal!
Robin