Hey guys, how are you? It has been around 6 months since my last entry and I am slightly late with this one. I believe that the following picture will sum up the reasons why. The file seen in the pic had been submitted literally couple of minutes before the deadline and before I took on writing this entry.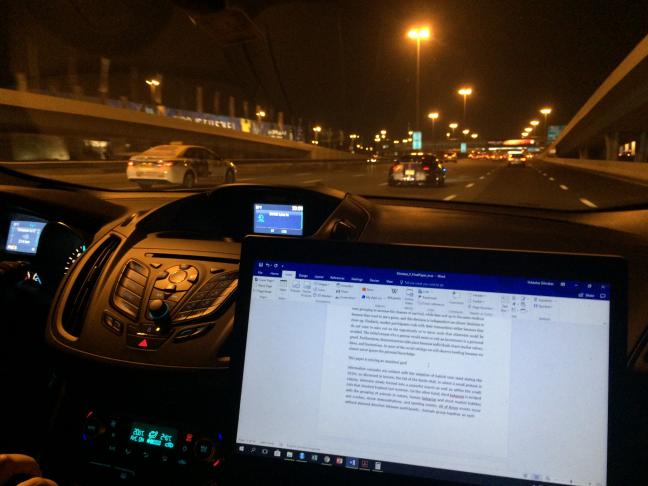 (Photo: somewhere on a highway in Dubai, UAE)
This picture sums up not only my last couple of weeks but pretty much my life since the middle of August. I am very busy, and I find myself complaining about it too much already. Cannot help it though, I really am.
So, what am I up to? Let's start the story from September. To be honest, I think I have overestimated the amount of workload I will have this year and I have taken on more responsibilities that I would normally. I am one of those people who appreciate their free time a lot so feeling so busy is super weird. So far, I have been involved in: part time job as Data Analyst, thesis writing, courses that would put me way above required 120 ECTS (blame my curiosity), basketball, running the Masters' Committee, Hanken's mentorship programme, travel, various meetings, outings, etc. Thus, the last three months have flown by in the fastest way ever.
Anyway, let me focus on the last week, it has been rather interesting. On Tuesday I had a possibility to meet with my mentor Marcus. It was our third meeting and I am glad that Marcus himself is taking an initiative on having them regularly. So far, Marcus has given me some valuable life insights, we had cool discussions about professional life as well as got to know each other better. Therefore, I want to say HUGE thanks to Hanken because there always are numerous possibilities allowing one to increase the soft skills' package and I am blessed to have this opportunity. By the way, if you want to have an awesome mentor like Marcus, look up Hanken's Mentorship Programme.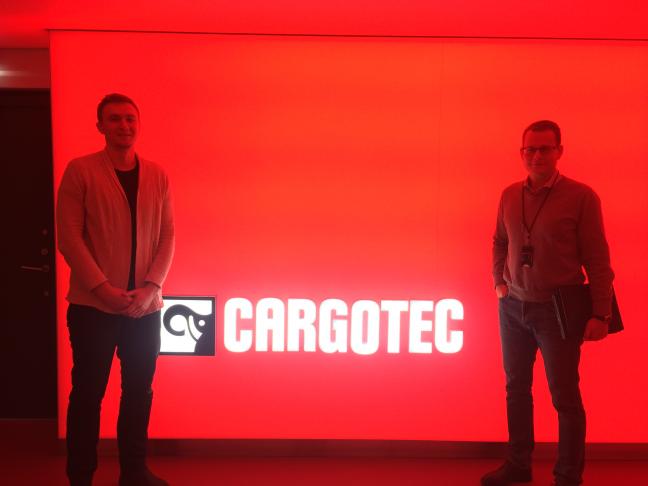 (Photo: meeting with my mentor Marcus)
On Wednesday I had a meeting with Miltton's representative. I had no feeling that something might go wrong prior the meeting but after I had arrived at the office, I found out that the lady I am supposed to meet does not work at the company anymore. Great! It was slightly funny, but I am glad Miltton has solved it well and I have got what I've wanted. Let's just say, stay tuned for some cool events :).
On Thurday I flew to Dubai for the third time since February. Cannot complain as I love that city but at this point in the year I would rather not travel. Why am I here? Basically, I have just changed the working place. Instead of working from Helsinki, I am doing it from here. So yeah, I am not at the beach here.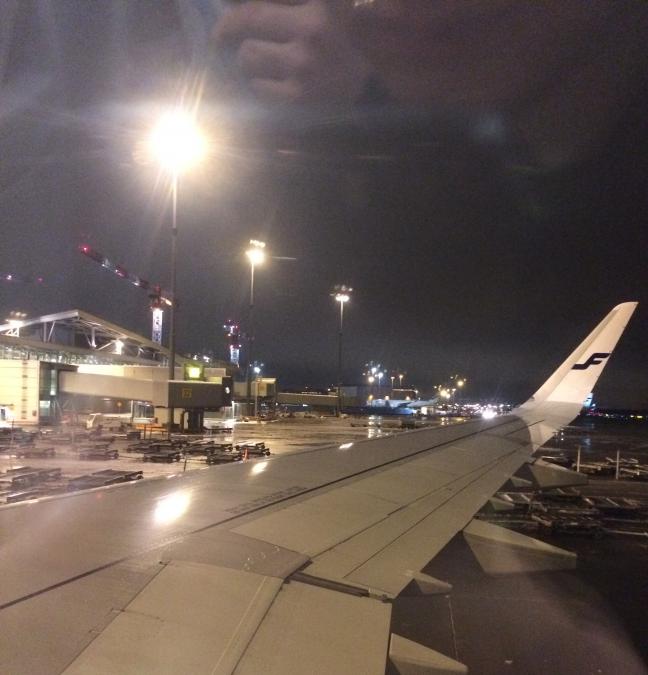 (Photo: about to take off with Finnair)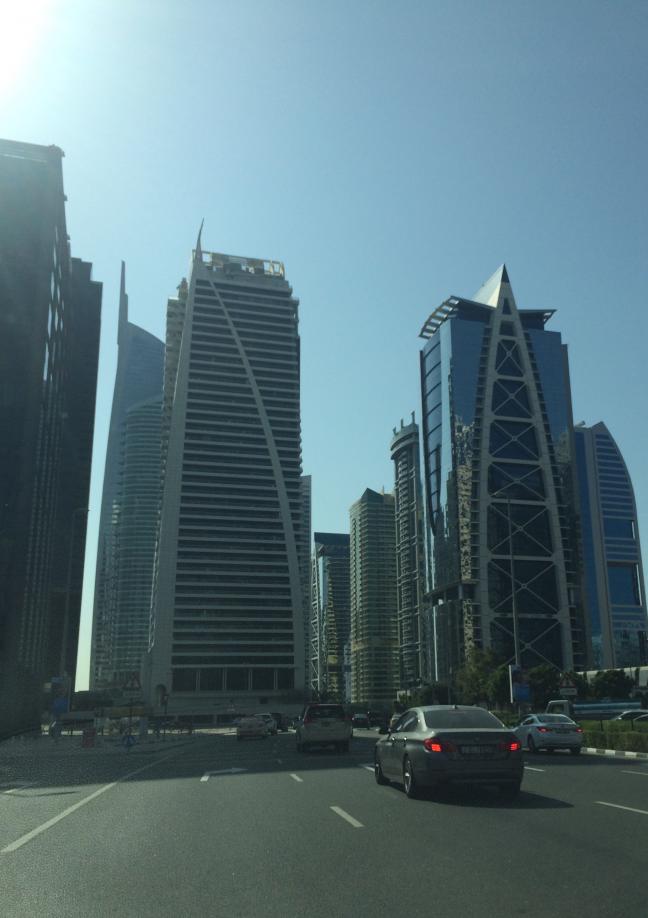 (Photo: it is hot here)

(Photo: an outing with my friends)
On Friday I had the possibility to attend the Abu Dhabi Grand Prix. Funny thing is that the race was won by Finnish driver Valtteri Bottas later that week. I could also hear one of my favourite artists – J. Cole.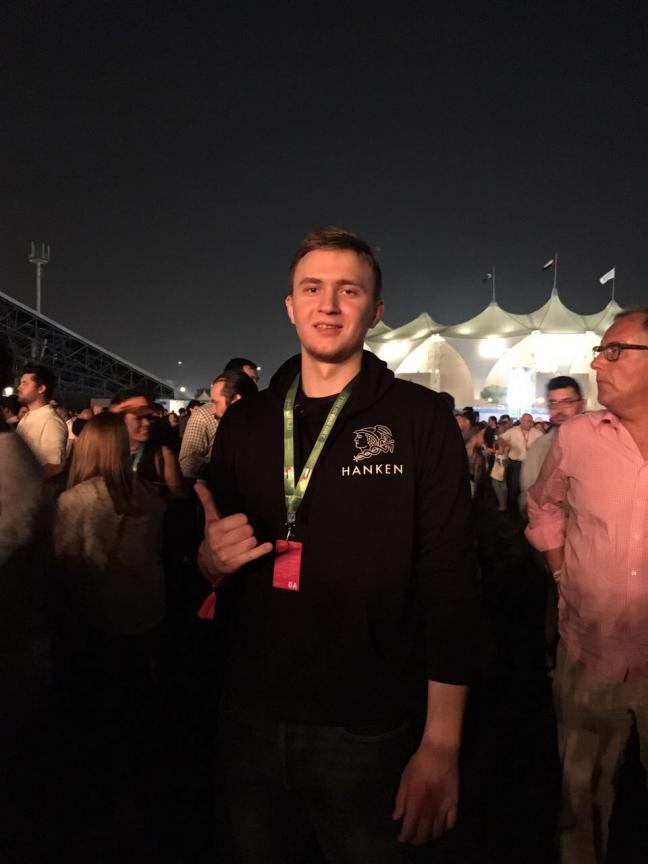 (Photo: at the concert of J. Cole, Abu Dhabi Grand Prix)
So, what is next for me? Heading to Oman for a while and then coming back before exams to try to get back to the routine again. On the other hand, I doubt it has been gone. Sad thing is that I will not go back home for Christmas due to workload, but you make choices and don't look back. For the New Year, I am going to Rovaniemi with couple of friends from Dubai. Haven't been in Lapland yet so looking forward to that.
I would also like to use this opportunity to advertise Kalliorundan, a pub crawl by Masters' Committee, coming up on 8th of December. Look it up on Facebook and join in for the fun.
Thank you for taking your time to read this and see you in the other entry.
Vytas