Калинка, калинка, калинка моя,
В саду ягода-малинка, малинка моя.
Калинка, калинка, калинка моя,
В саду ягода-малинка, малинка моя.
With this song we started our Russian dinner at Hanken that took place on 20th of March, and had a great success!
But let start from the beginning. March 20th was bright and sunny day, and Helsinki was especially beautiful at that day after long winter. The Russian evening was initiated by Irina Prokkola, a lector of Russian language for her students studying Russian language. It was an introduction to Russian culture for some of her students, but also an opportunity for other students to share their cultural experiences that they received from their exchange in Russia.
It all started around 4.30 pm, we all gathered on the 5th floor, where a long table was already served with Russian dishes and decorated with some traditional elements by students and Irina. The program of the evening promised to be lively and active. The first activity was a dance "Kalinka"- a traditional and well-known Russian song. We started with some simple steps, and speed up along the music. Both Russian and Finnish students quickly picked up the moves, and found themselves dancing joyfully. The music was catchy, cheerful, and literally breathtaking. After a fast dance, pleasant feeling of tiredness occurred.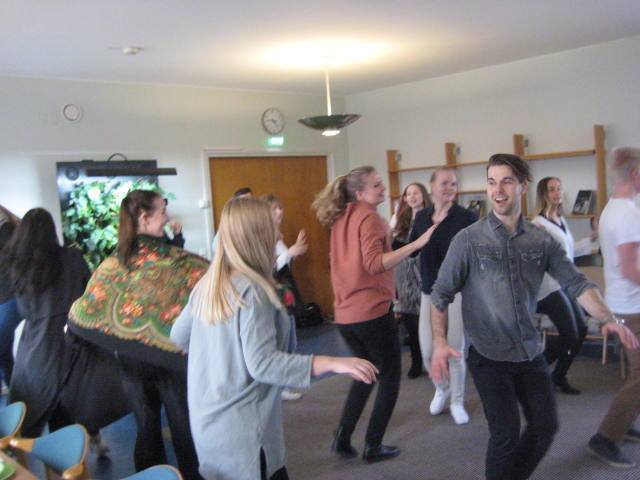 But the evening just started! The second activity that followed the dance was a performance of Margarita Blank playing the flute. She performed a Joke Waltz by Shostakovich. It was very relaxing and beautiful moment. It is always nice to found out that your classmates have some talents and hobbies that you haven´t heard of, and pleasantly be surprised.
After the performance were over, the main dish –"pelmeni" (dumplings consisting of a filling wrapped in thin, unleavened dough) were put into the boiling water waiting to be cooked. Meanwhile, together with students we were playing some Russian games. One was called "fanty", where each participant placed at the box his or her belonging into the box. Then a facilitator asks one volunteer to pick up one item and another volunteer picks up a list with one task for the person, to whom "fant" – the item from the box, belongs. The tasks were related to Russia in various ways. For example, to name 5 Russian male names or 6 Russian politicians, rivers and cities. After several rounds, pelmeni were ready, and we all sat at the table waiting for main dish to be served. The table was full of various treats: mustard, smetana, pickles, honey. Everytjing was very tasty!
After the main dish was over, two Finnish students – Anne and Lauri, shared their photos and stories from the exchange in Russia. Both students were very enthusiastic, and encouraged their classmates to go on exchange to Russia. Moscow and St.Petersburg- each city impressed students in different ways, and the students were eager to give some tips and stories associated with their trips. The presentation smoothly changed into the discussion with tea and Russian sweets: waffle cakes, "sushki", and gingerbreads (originally "prjaniki", which are not similar to gingerbread in other countries).
A culmination of the evening was singing Russian songs accompanied by guitar. The evening was very welcoming and friendly. It left a very warm feeling after it was over. And I believe I was not the only one who left with the same feeling!