Hey there! In today's post, I'd like to share some insights into everyday life and tell you about some opportunities to save money in Finland (which is always pleasant 😊). It is known that Finland is not a cheap country to live in – especially if you don't have an income in euros. But the good news is that being a student gives you great benefits in many ways! So, let's take a look.
Housing
Personally, I'm aware of two accommodation companies in Helsinki, which work specifically with student housing, – HOAS and Arcada Nova. Both have rooms' and flats' quotas for Hanken's students for an affordable price (much cheaper than a private market), and together with the acceptance letter from Hanken, everyone gets clear instructions on how to apply for housing. It's easy – and after filling in the necessary forms, you should only wait and hope for a good offer😊. Since the competition for this accommodation is pretty high, I recommend taking what is offered! 
lived in buildings from both companies, and each has own pros and cons. If interested, please, text me through e-mail noted at the end of this post and I'll tell more.
Arcada Nova appartment

Arcada Nova appartment

Hoas Appartment
Transport
I think the system of public transport in Helsinki is really good! Firstly, there is a well-established culture of bicyclists, so it's nice if you have a bike. If not, you can buy one super cheap from various C2C marketplaces in Finland, e.g. tori.fi, or rent one through Helsinki City Bikes. Within the same "category" I would highlight e-scooters, which are not that cheap but can be convenient for a quick ride at short distances (plus it's simply fun😊).
Secondly, trams, trains and buses are equal in the sense that you can use the same ticket even if you change the means of transport during the day. There are single tickets (lasts for 80 minutes), tickets valid per one or several days, and seasonal ones, which is the most suitable option for regularly travelling students.
The seasonal ticket can be bought through the HSL application or offices (the main one is at the central railway station). At that, as a student, you save 45% of the regular price!

In addition, my favorite part about transport here is the schedule of buses – due to special night routes, in the Helsinki area buses are going almost 24/7, so you can not to worry to stay late at the party and get home by early morning.
Food
Another amazing thing in Finland is the existence of volunteer initiatives that give the food a chance for being useful even if a date of expiration is close and supermarkets already cannot sell the products. Thus, all that you see on the photo is absolutely edible and was gotten for free 😊.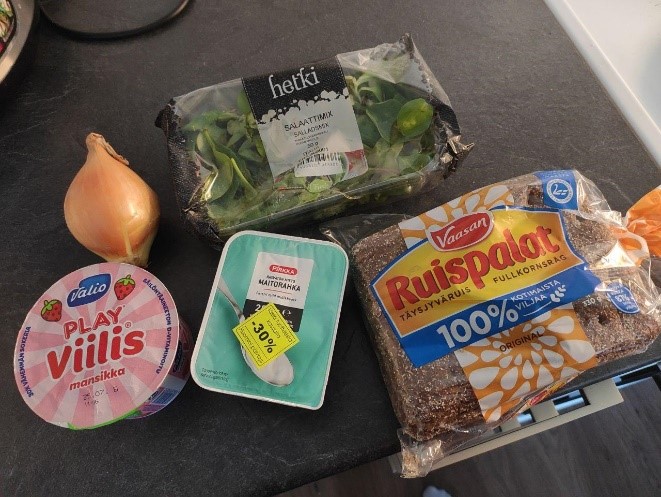 During the first time in Finland, though, I had to calculate a limit of money that I can spend per day since everything seemed (and actually was compared to my country) incredibly expensive! At that period, I stopped being fastidious about my food, which is a plus 😀 Anyway, I would still recommend to all newcomers in Finland to have some sort of financial plan for several months ahead, so you wouldn't be unpleasantly surprised when it is time to pay for bills.
Of course, as a rule, it is cheaper to eat at home than visiting restaurants, however, with student cards such as ISIC (international student identity card) or Frank card, you have an access to many discounts in cafes, museums, entertainments as well as many other places. So, it is definitely worth having it!
Gym
After the huge variety of cuisines that you will find in Helsinki, it is a good idea to think of some sport 😊. Normally, student accommodation has a free gym for tenants, but if you find it too small or want to make some fitness/yoga/badminton/etc., then you should take a look at Unisport and see that there are super prices for Hankeits!

All in all, those several points hopefully will make your student life in Finland easier and better, and you always can learn more from me and other fellow students 😊. Drop a message here if have any questions: anastasiia.strokova@student.hanken.fi
Good luck!