I'm writing this with a particular audience in mind: prospective international students who are on the fence about whether they should study abroad or not, and also people who have applied to Hanken but are not quite certain of whether they would want to actually get here, if things do work out as planned. Short message to said audience : DO IT! VENTURE OUT! COME TO HELSINKI! (And where else to be in Helsinki but at HANKEN!)
The purpose here is not to provide information about any specific master's courses at Hanken (the Hanken website is the best place for that) and I'll talk about my course at Hanken (Masters' in IP law) in another blog post.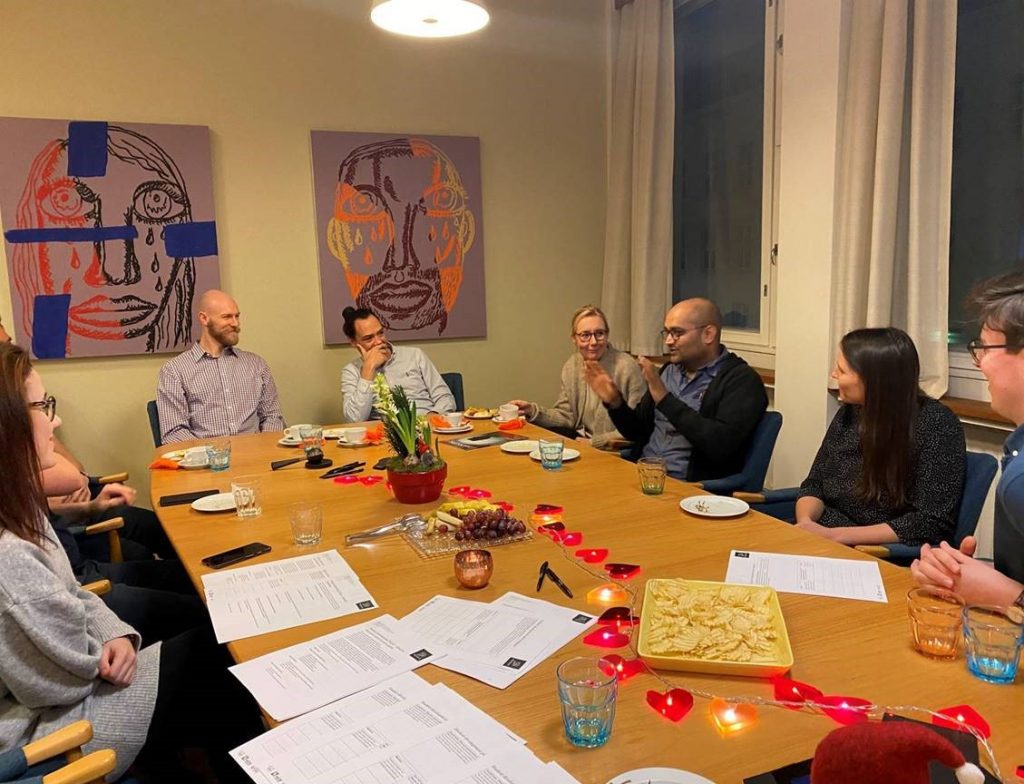 Let's get on then, with my story!
I had already had a fair share of college education, having done two bachelor's degrees in India: first in science and then in law. While working as a lawyer in the courts of Delhi, I felt that if I could specialize in a particular field of law it would be a great boost for my career. I discussed this with my friends and family, and a common thing that they had to say was that a master's degree is something which one should try to get from abroad.
Now you might probably already be aware of most of the reasons people give for studying abroad. The familiar reasons come to mind: exposure to an international environment, a change of scenery, getting acquainted with new cultures and so on. Because I'm from a developing country, people also pointed out that the quality of life is just better in the (so called) "first-world countries". Well, people say these things because they're all true! And yes, don't forget the biggie: putting it on your CV that you have that international degree. That makes does make a difference, no matter what your future plans might be.
Cut to March 2019, when I received THE email with that life changing piece of information: my application for admission to Hanken was accepted. I was overjoyed when I read the news, but I wasn't quite prepared for what was to come next: having second thoughts about the entire plan of moving from Delhi to Helsinki! Quite ironical, that till the moment I had not gotten an offer of admission, my mind was fixated on getting it. And then, I got cold feet once I saw that I had actually made the cut to get in!
Let me be clear that it wasn't that I had any doubts about Hanken as such. I knew that the IP law course was great, and it fit my needs. It was the whole prospect of moving abroad which seemed daunting. And that anxiety was perhaps justified. Leaving home, especially for the first time, was a big big move! Leaving friends and family behind, not knowing what's to come ahead and the challenge of starting life afresh: let's just say that I had lots to stress about in the time remaining before the flight in August.
If at all you have similar thoughts during the time ahead, just know that making the move is worth it in the end. The tricky part is, that you can only come to know the real benefits of moving abroad when you actually get to the destination! I say this with full conviction, as I'm experiencing this myself. So many thoughts that were in my mind, either vanished or simply became irrelevant once I started life afresh here. I won't go so far as to say that you shouldn't think about this issue at all, but my advice (especially for people who have never lived away from home before this) is to find the courage and will to go through with your decision to apply. (After all, the application process itself required some hard work! Don't let it go to waste!)
Here are some things which I feel that I've gained from leaving home and coming here:
Discovering myself: I'm not trying to sound like a spiritual guru or something, but I've learnt a lot about myself in these six months. I realized that a lot of what I thought was a core part of my personality, was actually a way of life suited to my surroundings. Changing those surroundings led to a lot of introspection. Being in a completely new setting, I've had to think about the most basic things, like what I feel about the people around me, what my likes and dislikes are, how I think of any abstract issue, and even what kind of food and drinks I like! Having to introspect has an impact on your career choices too! I feel that I've gotten a much better understanding of what I'll say the next time I face the mother of all interview questions: "tell me more about yourself"
Discovering Helsinki: Unlike some countries (including my own) where university campuses are cut-off from the main city, life at Hanken is quite the opposite. Hanken is perhaps a stone's throw away from the city center, and the accommodation for students is spread around the city. Students get the full experience of city life, and there are even student activities which take place outside the walls of Hanken. I live in the Majstranden student apartments in Arabia, and I love walking to the beach next to the apartment building! (Other student ambassadors will be writing more in depth about student activities and student housing, so keep an eye out for those posts in the Nordic Brilliance blog. To check out what the student union is up to, go to their website . It's quite informative!)
Discovering other life stories: It's true that travelling can give you a good sense of how big the world is and how different its inhabitants are, but nothing comes close to the kind of exposure that living abroad provides. I've had conversations with people from diverse nationalities and backgrounds, which I simply could not imagine having back home. When you get to spend time, and probably study with, people who bring a completely different perspective from yours, it enriches you in a way that nothing else can! I'm genuinely amazed that given it's relatively small size, Hanken has such an international collection of students. The icing on the cake is that since the Helsinki campus building is not a huge space itself, I end up seeing most of my friends everyday, and have intriguing discussions almost on a daily basis!
Sisu: I'm still trying to figure out what this Finnish word exactly means, but I know that it's something Finland is teaching me every day!!
Just like sisu, there are many other things which form a part of every country's ethos, and living there is the only possible way to experience that. I hope that if and when you do get a chance to study abroad, you grab it with both hands. If your destination happens to be Hanken, I hope to see you soon!!
Thank you so much for reading! Feel free to add comments or reach me at jitesh.gupta@student.hanken.fi
A NOTE ON PRACTICALITIES:
Transitioning to a new country is not always smooth sailing, but it becomes much easier if you prepare in advance and have gathered all the information that you feel is relevant!
A great place to start for prospective Hanken Students is this webpage on the Hanken website which gathers all the relevant information to help you make the transition. Read everything carefully (and maybe make notes! I do!), and ask the relevant people if you need more information (email/other contacts will be present in the relevant page) if you have any further doubts.
Another resource that I would highly recommend is the official websites and social media handles of the Finnish Government. They contain relevant information about procedures and requirements, and most of the information will usually be available in English. Since the visa/residence permit process is not something which Hanken is directly involved with or could influence in any way, you'd be better advised to be aware of the relevant information yourself as well.
About life in Helsinki, there's a plethora of information which you can get from blogs, youtube videos etc. But keep in mind, that these could be biased depending on the creator. It's also true that each person's experience living anywhere is different and unique, so they might unintentionally give you the wrong idea even if what they're saying holds true for their situation. Though they can be quite helpful, never take these as the primary source of information, and you'll definitely be better off writing to Hanken, the Finnish Government or the Finnish embassy in your country about practical matters. Hanken also arranges a special orientation program for international students at the beginning of the academic year.
If at any point, things seem to be going in the wrong direction, the first thing you should do is to let the concerned department at Hanken know about the issue. I had myself gone through this while settling here, and the people at Hanken helped me out in every way possible.
Cheers!