Hello there! Jennifer here. I hope that the long dark days hasn't given you blues yet these past few weeks. Having grown up and lived in countries with continuous sunshine all year round, the winter darkness was something quite new and challenging for me. Over the years I've learned to deal with it in my own way.
Fighting the Winter Blues
On Thursday (19.12), Yle news gave us a reminder that the winter solstice is upon us. The article (in English) also gave us some "Kaamos tricks" or "darkness tricks" to get through the long winter nights which includes special daylight lamps, exercising regularly, and keeping our social life active. Kauppalehti (in Finnish) also provided the list of tips from the Institute for Health and Welfare (THL) on how to combat the "the dark side".
As for me, some of the few changes in our house included putting up some fairy lights and taking out some of my Santa figures and Christmas elves and scatter them all around the house (including a hanging Santa underneath our chandelier :D).  One of the best purchases we've also made is our alarm clock that slowly gets brighter before waking us up (see photo below).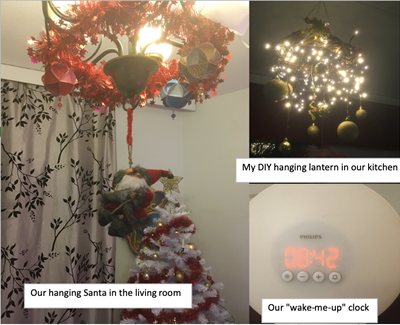 Even though most of us are now free from studies and work, make sure that you still get out to get some exercise like skating and skiing with friends and family, catch a movie, share a coffee or a meal with someone, or just get out there and have some fun. Don't heed Vader's call to "come to the dark side".
My unusual but lovely winter experience
Hanken also has its own ways to make the season brighter. One of those is the annual Advent calendar which entails solving a puzzle with the lucky winners receiving wonderful prizes from various sponsors. There's also a very warm and welcoming atmosphere there and my daughter loves going there.
Due to some unforeseen circumstances, I've had to take her with me to attend a lecture and a few times to study in the library. She actually listened to some parts of the lecture and had her own "study materials" so we're both "studying" in the library. It's great to know that when times get tough, I know that Hanken will always welcome my plus one whenever I need to take her with me.
More winter fun in Hanken
After the Christmas holidays, Hanken usually gets back to business with a bang! One of the annual must check-out events in spring is the Hanken Business Forum.  I've included the link to the 2018 Facebook event below if you've like to have an idea about what goes on in this event: Hanken Business Forum 2018
This event has had great guest speakers the past few years. And for people interested in expanding their network, the networking dinner is the perfect opportunity.
My winter escapes
Jennifer here signing off for the year from Helsinki airport with my plus one.  We're off to get some sun and sand and meet family and friends in Philippines.  Wishing you all a wonderful holiday season and hoping that you'll all take advantage of this time to have fun and welcome the new year with a Bang!
(photo courtesy of hubby)