Hi there, it's Jing again. It is time to look back at my first year master studies at Hanken. Anyone's interested in some surviving tips?
Starting my degree in humanitarian logistics was one of the best decisions I made. It opened the door to a new professional area that is so important yet relatively under-recognized. So what is humanitarian logistics? And what are we studying to become humanitarian logisticians at Hanken?
Humanitarian logistics is basically providing relief (food and non-food) items to the needed in disaster areas such as in political riot and natural disaster zones. However, this life-saving process is rather complex and needs much all-round professional knowledge including logistics, country-specific information, supply chain management, uncertainty and risk management, and cooperation among large number of involved agencies. Though, doesn't it also sound exciting that so versatile skills and knowledge that you could learn from this field while having the mission of saving lives!
Now peacefully entering the second year of my education, the intensity of first year's studies is still so vivid in my mind and is logged with the large amount of material left in my laptop. Most of the mandatory courses are taken in the first year as in many master degree studies at Hanken. However, the journey was rather fruitful and enjoyable, but also rough at times. As sharing is caring, and as well a good self-observant tool, here I go telling some of my take-ways from surviving the first year study.
The amount of work won't kill you but certainly will leave you some scratches at times…
At Hanken, the quality and quantity go hand in hand meaning there is not only large amount of work including individual assignments, group works, projects, and tests, and also high level quality requirements of your work. The studying terms are periodic spanning over 6 weeks each that quite often when you just finished the assignments of the week and you are facing the deadlines of end-of-term big projects.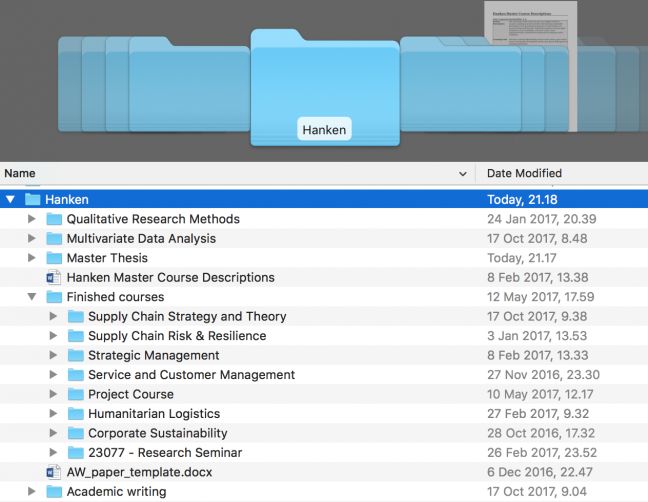 My proven track of conquered courses!
Don't get scared! You will manage! You chose Hanken and Hanken chose you – there is a mutual understanding of expectations. Beside this pep talk, the different types of assignment are also making things more interesting for you to learn and to work on.
You will watch documentations and read related academic papers, and apply theories to the practice – at Corporate Sustainability. You will act as a local government official, or chemical corporation representative, or NGO agent in negotiating an agreement to make sustainability development for an area that is endangered of pollutions – also at Corporate Sustainability. You will write diaries of your grocery store visits or movie theatre experiences to analyse their service levels – at Service and Customer Management. You will have very active in-class discussions at Supply Chain Strategy and Theory and at Supply Chain Risk and Resilience. You will participate in mine-field game and flood crisis game with stones and beans at Humanitarian Logistics course. You will experience Finnish working culture and solve a real company problem at Project Course in Corporate Social Responsibility and Humanitarian Logistics. Besides diverse assignments, there are company visits, guest lectures, and large-level seminars.
Okay, okay, these are the interesting parts of humlog degree I just mentioned, and there are lots of challenges and struggles I'm hiding behind. But I believe in hard work and these fun moments are just making the experience even better which I don't want you to miss out. Besides, the learning of hard-working, persistence, positivity, and resilience is the most important skill after all!
Last but not the least point, you will find your best friends here at Hanken that I'm sure of, and with whom you will walk this challenging path with constructive complaints and good moments of time-out!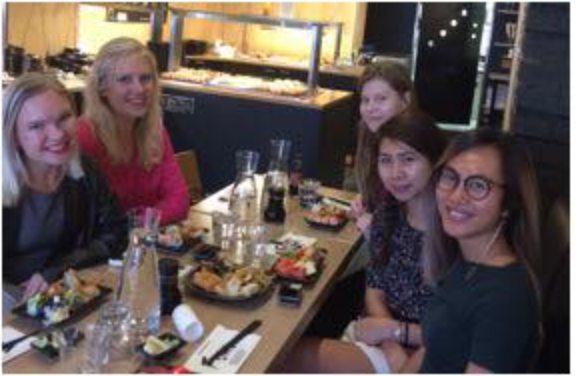 Tiia, Essi, Mea, Tram, and me welcome you to HumLog (and sorry for the blurry picture!)