13.4.2022
By Mimmi Pöysti
Research Coordinator at the Humanitarian Logistics and Supply Chain Research (HUMLOG) Institute at Hanken School of Economics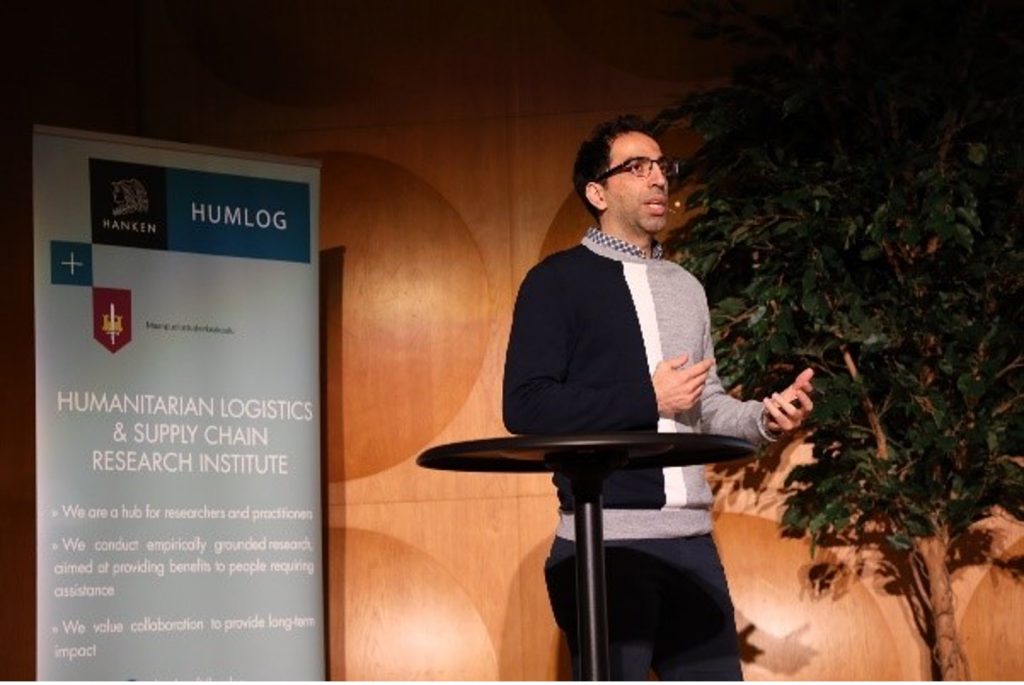 As a research institute with extensive knowledge in humanitarian response, refugee crises, crisis preparedness, conflict, shelter, supply chains and cash modalities in humanitarian aid, the HUMLOG Institute has been busy since the beginning of the war in Ukraine. As a collective we have produced research outputs, conducted action research, spoken to various media outlets as well as been on the ground in Poland, coordinating and responding to the needs of refugees from Ukraine.
HUMLOG's Director, Wojciech Piotrowicz, was the first of our team to respond to the looming crisis. Two weeks before the Russian invasion, he was in Poland preparing for the potential arrival of one million refugees. Several weeks on, he has been working with the Polish Government Security Center, Rządowe Centrum Bezpieczeństwa, on the government's response in the refugee crisis, while at the same time collecting data for the Cash &/or Carry project and other ongoing research activities relating to refugees, cash modalities. He has been giving continuous updates from the field and managing the many projects he is leading at HUMLOG.
Kristjana Adalgeirsdottir, HUMLOG's Project Coordinator, was called to Poland to provide her shelter expertise and contribute to emergency relief efforts at the border with the UK-based NGO ShelterBox. As an architect and researcher with focus on humanitarian construction, sustainable project management in emergencies and cultural sensitivity in reconstruction, Kristjana's expertise is very valuable in this context.
Sarah Schiffling and Wojciech Piotrowicz wrote an article conveying one of the main messages HUMLOG has been sharing since the beginning of the war: cash donations are a better way to help than goods donations. The article, "Ukraine crisis: why you should donate money rather than supplies", was published in The Conversation. It highlights the importance of sending goods that are shortage of. At the Polish border, items are being moved away to avoid blocking the area. Therefore, donating cash is the best option as goods, that there is a shortage of, can be bought locally.
In the article "The expert advises against private deliveries of supplies to Ukraine as it blocks aid supply chains at the Polish border" (Experten avråder från privata leveranser av förnödenheter till Ukraina – avfallsproblem vid polska gränsen) Professor Gyöngyi Kovàcs mentions the importance of being aware that the situation is constantly changing in Ukraine: what is needed today may not be needed tomorrow.
A week after the start of the war, HUMLOG and Hanken's communications and external relations teams put together a seminar titled "Ukraine – why help with cash instead of goods". The purpose of the seminar was both to inform about the logistical problems created by unsolicited goods sent to Ukraine and to raise funds for humanitarian organizations working in Ukraine. The seminar was opened by Rector Karen Spens and chaired by HUMLOG's Deputy Director Diego Vega.
Professor Gyöngyi Kovács then explained how humanitarian logistics works in the field, and what challenges there may be in a context like Ukraine. Temperature control for medicines, negotiating access to the affected populations and getting goods through customs, to name a few.
Postdoctoral researcher Amin Maghsoudi further explained the concept of cash assistance and presented his related research in the Academy of Finland project Cash &/or Carry, which investigates the choice between in kind and cash assistance.
We were also given a live presentation from Poland, where Wojciech described the events that had unfolded in Ukraine and Poland thus far and what the response looked like. After the presentations, the audience present at Hanken and online asked many questions, and Gyöngyi and Amin answered to them directly. The event was recorded and shared on both Hanken and HUMLOG's YouTube channels and reported in Finnish media.
Vasabladet and Österbottens Tidning reported from the seminar. The article titled "Not all disaster aid is good – researchers explain how you best navigate in the jungle of donation alternatives" (All katastrofhjälp är inte av godo – forskare förklarar hur du bäst navigerar i djungeln av biståndsalternativ) quotes Gyöngyi, Amin and Diego.
Gyöngyi also recorded a podcast "This is how you can help! – Humanitarian logistics with professor Gyöngyi Kovács" (Så kan du hjälpa till! – Humanitär logistik med professor Gyöngyi Kovacs) for the Swedish podcast channel Logistics Pod (Logistikpodden). In the podcast, Gyöngyi talks about why logistics is so important in handling a crisis, what the preparedness for these kinds of crises looks like and why one can't pick aside during humanitarian operations in war.
Kristjana was interviewed by the Icelandic newspaper Fréttablaðið. In the article, "It is important to find humanity in this crisis" (Mikilvægt að finna mennskuna í þessari krísu) Kristjana describes the needs of refugees in Poland and praises the solidarity of people wanting to help.
"It is important to find humanity in this crisis"
In the latest post in this blog, I wrote about "The Logistical Impact of not putting oneself in another's shoes", reflecting on the usefulness and logistics challenges that come with clothes donations. The blog post builds on the Ukraine seminar, adding observations from my own experience writing her thesis and working during a different refugee situation, in 2016.
All articles, seminars, podcasts, and blog posts have been shared in HUMLOG's social media accounts for increased visibility. We also highlighted a 2018 paper by Wojciech, "In-kind donations, cash transfers and local procurement in the logistics of caring for internally displaced persons: The case of Polish humanitarian NGOs and Ukrainian IDPs", as it was very topical and relevant to the current crisis.
The most recent one from HUMLOG to respond to the humanitarian response on the ground is Gyöngyi. She was called in as a Logistics Delegate in the Emergency Response Unit of the Finnish Red Cross (FRC) and her deployment will last until May. Just as before her previous deployments with the FRC, she has delegated and briefed the rest of the team so that her projects and other work at HUMLOG and the subject are in good hands until she gets back.
I can't help but feel motivated and inspired by my colleagues in how they bring their expertise from theory to practice, bridging the far-too-wide gap between academia and the field. This is something that a lot of papers on humanitarian logistics point out in that that last bit about recommendations and future research. I personally think the HUMLOG Institute is doing rather well in narrowing this gap.