By Jana Abiková, visiting researcher at HUMLOG and PhD student at the University of Economics in Prague.
Dear reader,
today, I would like to tell you few words about my research journey.
My name is Jana and I am PhD student at the University of Economics in Prague. I have been dreaming about visiting HUMLOG since the very first day of my PhD life and right now, I am finishing my research visit here in Helsinki.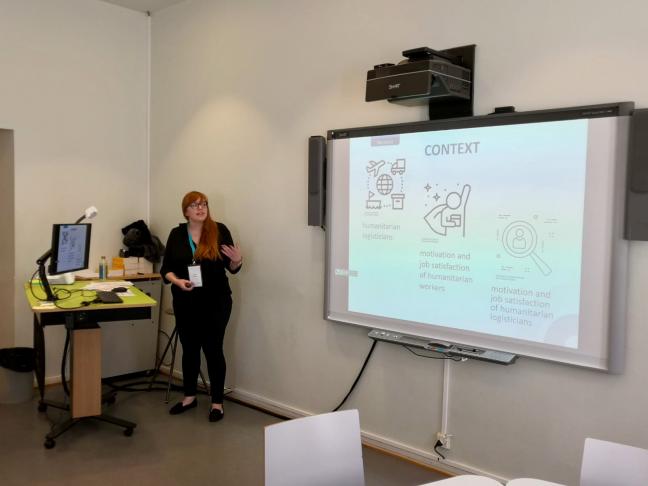 My first research was related to siting problem of refugee camps. In 2016, I was volunteering in Serbia in two refugee camps. It was the place where I chose the specific topic of my doctoral thesis and my research life in general. Later, I have added the aspect of human resources in humanitarian logistics. This was more or less a consequence of the practical work experience I gained in various organizations (in the Czech Republic, I worked for Doctors Without Borders, People in Need and Amnesty International).
I chose the topic of humanitarian logistics when I was 18 years old. I wanted to work as a logistician for humanitarian organizations, so I started studying logistics. When I was finishing my bachelor studies, I knew students in different countries could have lectures related to this topic. But in the Czech Republic, this was impossible. Therefore, I decided to be the first person in my country doing a PhD focusing on humanitarian logistics.
On the first day of my PhD, the vice-dean for research and science told us "if you want to finish your PhD studies, you have to love your topic". I think very often about these words. Maybe you, reader, are also a PhD student or maybe you are thinking about this journey. In that case, these words are something you need to hear. For me, my research topic is far beyond being only my work.
At HUMLOG, I had the opportunity to work with the director, Dr. Piotrowicz. Our joint research is focused on transit migration and I hope you will have opportunity to read our paper soon. Visiting HUMLOG enables me to work with people who have much more experience than I do. At the same time, it was my first opportunity to work with people with the same research interest. These people are admirable researchers and most importantly, humans. The opportunity to be surrounded by people with the same mindset as I have has been unforgettable.
In the end, I would like to thank to all my colleagues for the time they gave to me during last six months. And also, to you, reader, for the time you spent with my words. I am sure you know the proper end of such post (just little hint, it is similar like the end of presentation at some conference).
If you have any further questions about my research, possibilities to visit HUMLOG, if you want to cooperate or just talk about logistics or migration, do not hesitate to catch me at jana.abikova@vse.cz
Jana Abiková