By Mikaela Gerkman and Mimmi Pöysti, Administrative Assistants at HUMLOG Institute.
Kristjana Adalgeirsdottir, Mikaela Gerkman and Mimmi Pöysti started their new positions at the HUMLOG Institute last week. Kristjana will work on project management and funding applications, whereas Mikaela and Mimmi will handle the administration of the institute.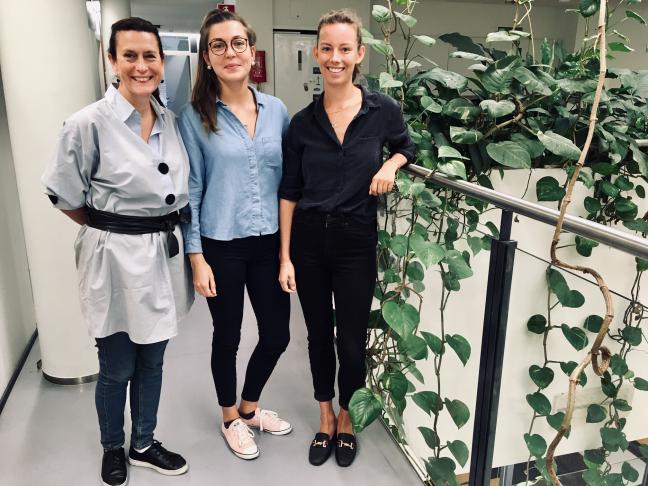 Kristjana was born and raised in Iceland and has experience of various project management tasks as well as international fieldwork related to emergency responses and reconstruction after disasters. She graduated as an architect in Norway and has been working on her doctoral theses at Aalto University, with research focuses on humanitarian construction, sustainable project management in emergencies and cultural sensitivity in reconstruction. 
For several years, Kristjana is also a member of the ShelterBox Emergency Response team as well as a Red Cross delegate. Earlier this year, she came back from an ICRC mission in Iraq on Cash for Shelter and Livelihood projects for returnees. With her foot currently set in Finland and at the HUMLOG Institute, Kristjana is excited to meet new colleagues from the humanitarian and research fields, share experiences and get involved in the institute's interesting ongoing work.   
Mikaela first joined the HUMLOG Institute working as an assistant for the EurOMA 2019 conference and was inspired by its collaborative and down-to-earth spirit. "The HUMLOG Institute is an environment where you get to be your true self and where sharing – let it be knowledge, a helping hand, a new idea or an intriguing story – is a genuine act of care and interest for one another."  
Mikaela is passionate about her master's studies in Supply Chain Management and Social Responsibility at Hanken. She enjoys getting into the details of complex matters and will write her thesis about sustainability issues in coffee supply chains.  Mikaela's interest in the humanitarian field and project management was strengthened by her volunteer work for the NGO Planet Drum Ecuador, which was set up to tackle the devastation caused by natural disasters in Bahía de Caráquez. Surrounded by the humanitarian community of the HUMLOG Institute, Mikaela hopes to gain new insights about research with a true societal impact.
Like her colleague, Mimmi is also a master's student at Hanken, majoring in Supply Chain Management and Social Responsibility. When she is not working at HUMLOG, she's writing on her thesis about logistical challenges in a conflict zone. Her interest in humanitarian logistics was sparked during her bachelor's studies at Hanken and grew stronger as she interned for UNFPA in Cameroon. As a part of the Supply Chain and Family Planning team at UNFPA she supported the strengthening of the supply chain of sexual and reproductive health products in Cameroon. She's now excited about being in a workplace that puts together a diverse group of researchers and practitioners in the humanitarian field. "I already feel very inspired by my colleagues and the doctoral students at HUMLOG – can't wait to pick everyone's brain and get involved in the work myself!"
As an institute, we believe in that the best ideas are born when people with different backgrounds and experiences come together to share and exchange knowledge. We are therefore glad to have strengthened our team with Kristjana, Mikaela and Mimmi.
Interested in collaborating with us? We are on a continuous lookout for people with an interest in the humanitarian community so do not hesitate to contact us at humlog@hanken.fi! Working together, we can make an impact!