By Joseph Sarkis, PhD, Professor at Foisie School of Business, Worcester Polytechnic Institute, USA and HUMLOG International Research Fellow at Hanken School of Economics, Finland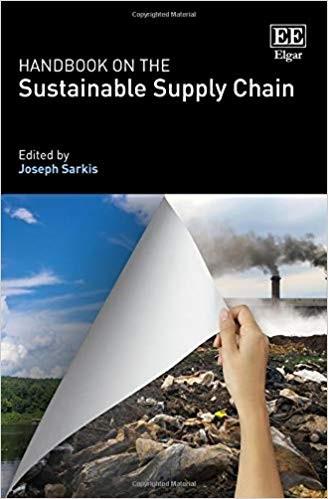 The advent of organizations managing environmental and social issues has been a concern since the beginning of corporations. Supplying jobs, goods and services to society, while maintaining a profit for their owners, has always been a goal of commercial organizations.
The expansion of this role has only relatively recently been experienced by organizations. Norms have always been shifting, sometimes in a cyclical fashion. But through various pressures, regulations, community norms, customer expectations, and even familial obligations, organizations have garnered greater interest in making sure that they do little environmental and social harm while meeting their economic obligations.
This is the premise that my latest edited book, "Handbook on the Sustainable Supply Chain" by Edward Elgar Publishing, is based.
The complexities of environmental and social sustainability have only increased over the past three decades. No longer can one single organization be considered a culprit in poor social and environmental performance. The organization is part of a larger ecosystem, which includes its partners that help to deliver its products and services.
Typically these partners are in the form of suppliers and customers; industrial and otherwise. Not only is there the complexity of managing the organization, but a number of organizations, and their relationships.  
There are also very many dimensions to consider. The complexities of relationships, the contradictory social contract goals, incomplete information, and dynamic values and norms, all point to supply chain sustainability management as the proverbial 'wicked problem'.
Addressing such problems requires a holistic approach requiring systemic and cooperative resolution; a transdisciplinary effort. Transdisciplinarity requires government, industry, communities, and markets to work with academics to address these problems.
Although the vast majority of authors in this handbook are from business and engineering disciplines, the spirit of the book is to provide knowledge, fuel for action, to the transdisciplinary community.
Can one book do it all? Not necessarily, but it is an important snapshot as we reach 2020 to address issues of sustainable supply chains.  With 33 chapters we try to cover a large swath of issues.
The book is very practicable, we have made an effort to lessen the theoretical, jargon filled, academic perspective. We wish to make these ideas accessible to the broadest community possible. Although there are some complex and emerging ideas, such a big data and social networks, the basics of operations, transportation and energy topics are also covered.
I will not go into the details of the book at this time. The book's introduction provides details and relationships of the contents and its 33 chapters.
I do wish to make one observation to help set the stage for this topic, the field, and its relationship to broader society. The over 70 authors of this book come from all the populated continents on earth. This shows the pervasiveness of the concern and the global importance of the topic.
What you don't necessarily notice is that the authors range include very senior, veteran, thinkers, who have been working in this and related supply chain fields for decades previous to this book.  There are also new authors, new to the field and to writing. Much younger, who will be living in this world, and writing on these and similar topics for many more decades.
What does this intergenerational effort mean? It means that the ambit of knowledge can easily cover a century. Taking into consideration the past work and future work of these contributors, the book's contributors can easily span a century of contribution to knowledge.
It is this long term continual aggregation of knowledge on sustainable supply chains; and business and the environment, in general that can help build a more sustainable world. It will not be easy. This book is not a panacea for sustainability. Far from it. We do hope it is an important resource for this and future generations. We hope to spark additional interest in sustainability and supply chains. An interest and dynamic we are unable to predict; but an interest that provides an innervation for action
I would like to also thank some of the current and past researchers at Hanken and the Humlog Institute who contributed to this book. The topics covered by my Hanken and Humlog colleagues is a small example of supply chain sustainability topical breadth.  
For example, Professor David Grant wrote about adopting environmental or sustainable performance management standards and certifications for supply chains; along with his colleague Sarah Shaw from University of York. They focused on how to satisfy stakeholder concerns while increasing awareness and interest in sustainability. By presenting challenges regarding which standards and certifications organizations should adopt; Prof. Grant provides a balance where organizational fit is an issue for which to select.  He and his co-author comprehensively evaluate nineteen popular standard and certification schemes. They examine these items using key functional supply chain activities including buildings and facilities, production and operations, and transportation.
Another contribution with association to Humlog is by Professor Gyöngyi Kovács, Erkko Professor in Humanitarian Logistics.  Professor Kovács teamed up with former Humlog faculty Ira Haavisto. They introduce the overlap and balance between social and environmental sustainability in supply chains.  They argue that some non-humanitarian social sustainability issues, such as environmental responsibility and long-term sustainable development, have been less emphasized in the humanitarian context. They review various meanings of sustainability in humanitarian supply chains. The greening of humanitarian supply chains in particular is a particular pressing area in need of investigation.  Prof. Kovács believes that with the pressing change of the climate already leading to wars and climate refugees, the ecological dimension of sustainability cannot be ignored in humanitarian supply chains.
A third chapter from Hanken and Humlog was co-authored by Arni Halldórsson, Professor in Supply Chain Management and Social Responsibility at Hanken, along with doctoral student at Humlog Caroline Sundgren. They sub-titled their chapter "when profit meets planet" as they, along with a colleague from Chalmers University, wrote about energy efficiency in sustainable supply chains. They argue that energy efficiency allows managers to unite economic and environmental reasoning in their decision making and actions. Some managerial lessons and points are made to help them make better supply chain decisions.
I have many to thank for making this book possible, but as can be seen Hanken faculty and students, along with their colleagues have made this book even better.
I do hope you enjoy this book.
Joseph Sarkis